Listen to the broadcasts:
***Part 1***      ***Part 2***

Monday Morning Atheist
…the book
Monday Morning Atheist challenges most everything you have thought about work…and yourself. Based on 10 years of research and field experience, Monday Morning Atheist provides compelling Biblical evidence that everyone works as a practical atheist from time to time and most work this way all of the time.
Available in Paperback, Kindle, and Digital Flip Book versions.
Buy here…Just $9.99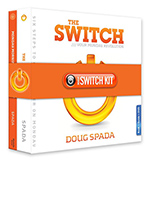 The Monday Switch Kit
(SIX STEP SERIES with Videos)
The Journey begins! Interactive and personal—THE SWITCH KIT will simply and practically transform your Mondays. This interactive study leads you through an exhilarating journey of experiencing God's purpose, peace, and power in your work.
Buy here…Just $19.99