Worklife Products For Your Church
WorkLife Church Guide
(for Church Leaders, Pastors, and Ministry Champions)
Yes, it is possible to equip your people for missions right at the point of their greatest potential impact: their work! We've spent over a decade tackling the issue of how to empower and equip congregations for ministry in the workplace, and this guide gives you access to our research and first-hand experience.  Learn more here…

Monday Morning Atheist
…the book
Monday Morning Atheist challenges most everything you have thought about work…and yourself. Based on 10 years of research and field experience, Monday Morning Atheist provides compelling Biblical evidence that everyone works as a practical atheist from time to time and most work this way all of the time.
Available in Paperback, Kindle, and Digital Flip Book versions.
Buy here…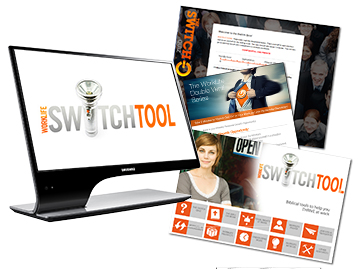 WorkLife SwitchTOOL
(weekly online subscription)
The WorkLife SwitchTOOL is a self- directed, web-based system that helps your people target and overcome the ever-changing issues that cause most of us to switch God off at work.
This tool acts as a work-week companion for all of your people with powerful video clips, devotionals and quick-use tools that pack a powerful punch in a way that's easy to access.  Learn more here…

WorkLife Caffeinated
(Individual 30 week growth sequence)
Wake Up! That is exactly what this tool will help your people do. Spiritually wake up. Each Caffeinated weekly segment delivered via email provides a situational mini story occurring in the midst of a difficult common work issue. This is immediately followed by a biblical teaching segment applicable to this particular work issue.  Learn more here...

WorkLife Vision for the Church
(a FREE pamphlet in PDF format)
If you were to plot a map of your city and pinpoint the workplaces of your members, you'd quickly realize that your church has a significant presence in the community – an opportunity for transformation.  click to read more…

WorkLife Thrive Guides
(Biblically based studies for Thriving at work)
This comprehensive study series targets the 30 personal work issues that cause Monday Morning Atheism. Your people can use these case studies, each with biblical guidance, in a group setting or for personal use.  Learn more here…

Other Fun Stuff
(Mugs, T-Shirts, Buttons more)
Shop for all kinds of fun Switch memorabilia, including t-shirts, buttons, drink-ware, stickers, more!  Shop here…